Meet France's answer to Octoberfest!
Beaujolais Nouveau translates to 'New Beaujolais', traditionally new release wine for thirsty farmers and winemakers to celebrate the end of harvest. In this region, the quality is arranged from cheap and cheery to serious Red Burgundy contenders – beginning with Beaujolais Nouveau, Beaujolais AOC, Beaujolais Villages, and the formidable wines of the Beaujolais Cru. But today we discuss the ever-controversial – Beaujolais Nouveau.
Beaujolais Nouveau wears many hats – It is at once a wine, a raucous wine festival, and a clever tourism campaign bringing well-deserved attention to the region of Beaujolais.
The Beaujolais region is located in North-Eastern France near Lyon. The Beaujolais Appellation allows the growth and production of Chardonnay, but it's really all about the Gamay variety, which accounts for 99% of wines from this region.
The Origin
The wine is traditionally a guzzler for a harvest lunch or dinner table (often both), over time this simple pleasure became a highly anticipated event and a cause for celebration. In the 1950s, the buzz of Beaujolais Nouveau reached Cafes and Bistros of the 'gastronomic capital' of Lyon and Paris was soon to follow. Distributors famously competed during this time to see who could reach Paris first. That's our kind of Tour de France!

What makes Beaujolais 'Nouveau' different from regular Beaujolais?
Beaujolais Nouveau is bottled only two months after the crush, with barrels literally rolling into town from boats straight into cafes; it has a convivial reputation, is affordable and thoroughly unpretentious!
The style of Beaujolais Nouveau is exceptionally fruity, with the confectionary aromas of banana, bubblegum, and cinnamon spice.

The vibrant scents come from a winemaking technique called carbonic maceration, in which winemakers ferment grapes in a carbon-dioxide-rich, anaerobic environment to dial up playful fruit and candy-like aromatics. In comparison, Beaujolais AOC, Beaujolais Villages or Beaujolais Cru are made with slower and more extracted techniques. At this level, carbonic-maceration is used sparingly; the goal is to reveal more regionality and varietal character for a more serious and complex wine - Less bubblegum. Put it this way if you're in a contemplative mood go Cru, if you're feeling like a 'Bon Vivant' try Nouveau!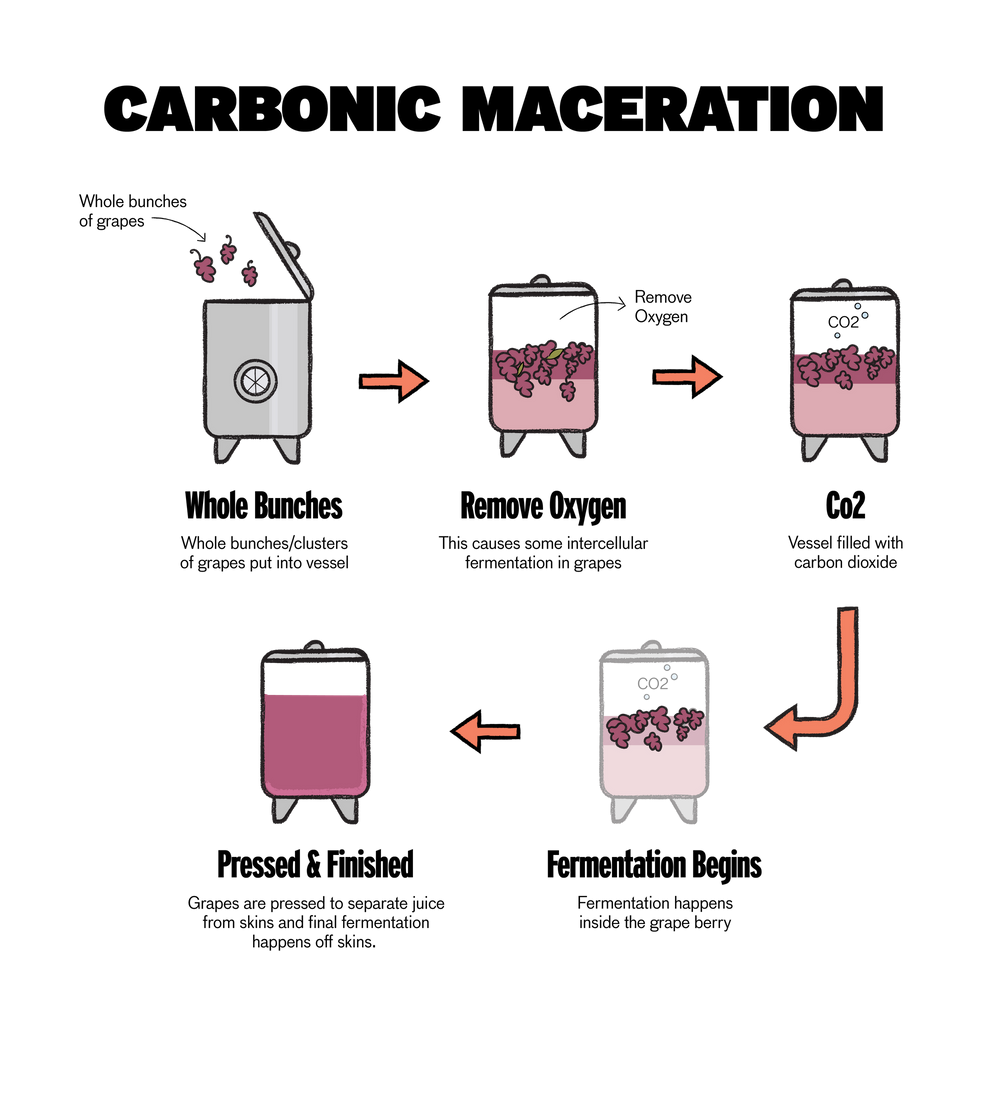 Why does Beaujolais 'Nouveau' matter?
At its height, the Beaujolais Nouveau movement helped inject crucial revenue into the small agricultural economy, directly benefitting the farmers and their communities. Beaujolais wines are charming and uncomplicated by nature. Its fruit is grown, harvested and vinified by small farm operations and collectives; compared to Champagne and Bordeaux. So Beaujolais is far less commercial as a region, like a blockbuster on an indie film budget!

The release of Nouveau wine is a highly anticipated cultural event. In many ways, it's France's answer to Octoberfest! The festival begins on the eve of Beaujolais Nouveau day (the third Thursday of November).
Of over a hundred Beaujolais festivals, 'Les Sarmentelles' is the most famous and is held in the town of Beaujeu, the capital of the Beaujolais region. This five-day festival features local produce, food stalls, and a tasting contest where the winner earns their weight in highly sought Beaujolais-Villages wines.
Beaujolais Nouveau reached an international audience thanks to the publicity stunts of producer, Georges Dubeouf (est. 1964). In the 70s, Duboeuf, pushed and publicised the wine and associated festivals. Banners flying the words "Le Beaujolais Nouveau est arrivé!", were commonplace, and the frenzy drew increasing media attention each year. The question on everyone's lips was who would be the first to deliver delicious Beaujolais Nouveau to Paris?
By the 80s, America was Beaujolais Nouveau's most prominent supporter outside of France, with Japan trailing close behind. Sales peaked in the late 90s and dwindled dramatically by 2019. The upshot? These days, the thirst for Nouveau has been replaced by a demand for higher levels of Beaujolais, giving the region long-overdue publicity. While Beaujolais Crus are reaching Burgundy-esque prices, there are still bargains to be found in Beaujolais AOC and Beaujolais Villages.
Many people attribute the success of Beaujolais Nouveau to the creation of other early-drinking styles like Primeur in South West France, Novello wine in Italy, and Joven wine in Spain. All wines you should try. Especially if you like this easy, juicy laid back style of wine.
What food pairs with Beaujolais Nouveau?
You made it this far, now what does Bojo Nouveau pair with? Try a rainbow chard and mushroom galette, simple macaroni and cheese, tarragon lemon roast chicken, scallops with cauliflower, crab toasts with spicy yogurt/labneh, and our favourite a duck ragu.

---
About the Author
Roger Ta is a qualified somm who's retired his 'Hospo Docs' for vintage boots and a keyboard. After a season in Barossa, and years in award-winning venues, his main focus is writing and pursuing vintages. A consummate student of wine with a passion for disseminating wine knowledge for all.
Do you know your wine personality? If your answer is no, take our quiz to find out which wines to pick up next and build your box!
Build my box